Articles
Gordon Haas: From Lambertville to Positano
By Corinne Pulsinelle
Radius Magazine, Issue #007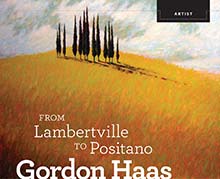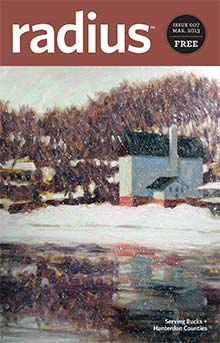 "I have a quick way of working, because I am painting changeable elements. I am not trying to recreate every blade of grass I see."
— Gordon Haas
Gordon Haas is a prime example of the apple not falling far from the tree. After selling his first painting to the mayor of Roseland, n.j. when he was only 12 years old, it should come as no surprise that the young artist could land a sale given Haas' early affinity for painting cultivated by both his surroundings and artistic family lineage. "The men in my family tend to be somehow linked to the arts while the women have a knack for science," he says. "I come from a family that is very supportive of creativity."
Growing up in North Caldwell, NJ, Haas' father, a World War II veteran, imparted a key piece of wisdom to his son through his working philosophy. Taking full advantage of the educational opportunities that the gi Bill afforded to returning soldiers, Haas' father chose to study architecture at the University of Michigan. After earning his degree, he went from working for an established firm to taking a risky but ultimately successful leap, following his entrepreneurial spirit. "My father told my siblings and I to do what we love to do and that the money would follow," Haas recalls. "I remember that advice, and it still guides my painting."
In developing his artistic style, Haas took liberties in painting independently of typically structured art classes. His go-to studio became the rural outdoor landscape surrounding his high school. Haas was quickly noticed because of his inherent compulsion to create work. Perhaps unbeknownst to the budding artist, Haas was already following in the footsteps of early masters and paving the way for his future as a professional painter: "I really got in to plein-air painting before I knew what it was."
Haas' focused passion compounded with his natural abilities struck a chord with art schools across the country, "Around this time, all of the major artistic education programs were focused on German Expressionism," he explains. Eventually, Haas chose to study at the Rhode Island School of Design, pursuing a degree in illustration. "When I visited the school I gravitated toward the student work," he says. "But there were also so many amazing professors, including Chris Van Allsburg, the illustrator of Jumanji."
During his time in school, Haas benefited from the solid foundational classes in art history and theory. Haas learned how to be a technically sound painter, illustrator and sculptor by studying the work of his peers, the faculty and the countless artists that had come before him. But it's the invaluable life lessons he earned which continue to motivate Haas as he works. " The most important thing I learned in art school was how to learn," he says. "For instance, nobody taught me how to build frames, but it's something I do all the time. I always want to continue gaining knowledge. The learning never stops."
After college, Haas began working as an illustrator in New York City. He produced drawings for a range of books and magazines, gaining a solid reputation and client base. But it was his time between projects that Haas began to retreat into his own canvases. "I was transitioning back into fine art, when I wasn't making illustrations," he explains. "But at the time, the work I was creating didn't feel like my own, because I was still mimicking the work that I was taught to make in school. I really needed to figure out how to make a Gordon Haas painting."
Developing his own methods involving a simplified and refined set of tools and a methodical approach, there is a distinct beginning, middle and end phase to each painting, regardless of subject. Tucked behind layers of complimentary colors and expressive brushstrokes, a completed Haas painting does not attempt to mask its process. "I don't fuss with the paintings, and I don't cover my mistakes," he says, "I have a quick way of working, because I am painting changeable elements. I am not trying to recreate every blade of grass I see."
Today, when Haas rests the posts of his easel into the grass, it is quite possible that the surrounding landscape is in rural Bucks County or even as far as Positano, Italy. Positano has become a frequently visited vacation spot for Haas and his wife, who revel in the fine cuisine, architecture and landscape. Haas has made many friends there, and the locals seem to gravitate towards his process. "Here, I am lucky to catch the attention of a passerby for more than five minutes," he says. "But in Positano, people become transfixed and watch every phase of a painting until its completion."
When Haas returns to his home and gallery, both in Lambertville, he carries with him a wealth of new paintings. The work in his gallery is full of life, mimicking a seemingly ongoing conversation between Italy and the Delaware River echoing from adjacent walls. "You can tell in the final work that I truly enjoy painting and that I never see it as a struggle," Haas says. "The pieces always have a life of their own."
To see more of Gordon Haas' work, visit the Haas Gallery, located at 71 Bridge St. in Lambertville.