Articles
Gordon Haas is a Lambertville impressionistic painter who has set out to prove that artists can make money.
Taking Care of Business
By: Jim Boyle, TimeOFF
08/02/2002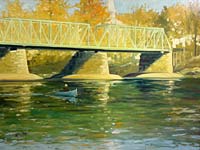 The Lambertville-New Hope bridge, by Gordon Haas
Like any other painter, Gordon Haas uses brushes and a canvas. He mixes his yellows and his blues, searching for that perfect green. He agonizes over each and every brush stroke. But Mr. Haas has a secret that would shock some artists: He actually tries to make a profit from his work.
"Any time you try and make some money in a creative field," says Mr. Haas, "everybody thinks you're selling out. It's a self-defeating attitude. I do like being able to eat."
In fact, the Lambertville Impressionist has become quite savvy with the "dark" side of art. After years of shuffling between galleries, he opened his own in Lambertville in 1992.
"I got tired of the other galleries making a 50 percent commission off my work," he says. "It's difficult to make a living like that."
Now that he has somewhere to permanently showcase his work, Mr. Haas has found that he is running out of space. Some of his extra paintings are being displayed at the Premiere Fine Arts Gallery in New Hope, Pa., in an exhibit titled The Early Paintings.
"They are mostly 4-by-5 foot paintings that just simply didn't fit on my walls," he says. "I called (owner) Anthony Costello and he agreed to put them up."
What many up-and-coming artists might not realize, or want to accept, is that there is a business side to contend with. Prices have to be negotiated and deals have to be made with galleries.
"I talk with some of the artists, and they drive me crazy," says Mr. Haas. "They have no idea what they are doing. They think anything having to do with selling takes away from their art."
Mr. Haas got a quick taste of the money aspect of art quite early in life. As a seventh-grader in North Caldwell in 1974, he was approached by the mayor of nearby Roseland.
"He was my history teacher," he says. "He asked me to do a painting of Becker's Farm in Roseland. They were tearing it down to build a bypass. I got $45. I used it to buy some watercolor brushes. I still use one of them today."
Some art supplies given by a recently deceased uncle, along with sports-related knee problems, got the 12-year-old Haas started along the art path. It quickly turned into a serious career choice and soon, the high-school graduate entered the Rhode Island School of Design, earning his bachelor's degree in 1984.
"I went through the illustration program," he says. "The studio was superior to the fine-arts program. I also like the discipline and the training. During senior year, one of the degree projects was becoming familiar with the business aspect. We learned about billing, paperwork and copyright laws. Things of that nature."
After graduation, the school helped him get in touch with the Graphic Artists Guild in New York City. This affiliation helped Mr. Haas quickly find work. Within two weeks after getting his diploma, he was working on a double-page full-color spread.
As he free-lanced for book covers and magazine layouts, Mr. Haas found himself drawn closer to Impressionism. Soon, he developed his own style and began selling paintings.
"I started out using watercolors combined with pastels," he says. "I then moved exclusively to oils for aesthetic reasons. I like to work in layers, and with oils those layers become more transparent. They show through to the viewer."
From his experience, Mr. Haas developed five different techniques for painting, drawing on French Impressionism and Dutch styles, depending where he is and what he is trying to capture. One style, called Swirlism, calls for the use of two brushes, one for each hand. They simultaneously swirl thin layers of oil paint, creating an atmospheric effect.
"I'm ambidextrous," he says. "You'd think painting would be quicker, but I use a very fine brush, so it actually takes longer."
His lush landscapes and peaceful scenes even attracted eyes from overseas. After exhibiting at the Leleu Gallery in Doylestown, Pa., he was invited to bring some of his work to a gallery in France. In 1998, he gave the first solo international exhibition of his career at La galerie d'art de L'Echanson, in Laon. The journey was so rewarding that Mr. Haas plans to return this October.
"They were great," says Mr. Haas. "They put a couple articles in the newspaper, bought some of my stuff. It was a little crazy getting the paintings over there. I didn't want to ship them in containers, so I packed them in four bags, and my girlfriend and I used them as luggage."