Articles
Gordon Haas' plein air paintings of Montalcino, Italy, will be on
display at the Haas-Muth Gallery
By: Jessica Loughery, TIMEOFF Bucks County
10/05/2006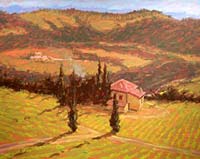 "Piero Strozzi"
Postcards are pleasant, often cute. Photo albums cover more ground, but are sometimes repetitive and a trifle boring. When you want to give the folks back home a serious taste of your travels, what you really need is a set of 44 plein air paintings.
Last spring, Lambertville artist Gordon Haas came back from Montalcino in Tuscany, Italy, with exactly that number under his arms and in his suitcases, and now he's ready to show off where he was and what he saw. His Dreams of Tuscany exhibit will run Oct. 7 to 15 at Haas-Muth Gallery in New Hope, Pa., with a reception Oct. 7 from 6-10 p.m.
Mr. Haas is best known for his impressionist landscape paintings of Bucks County and Europe. His art has been featured in museums and galleries throughout New York, Connecticut, Maryland, New Jersey and Pennsylvania. He works with oils and maintains a defined style, which he explains on the Haas-Muth Gallery Web site: "I use color theories related to that of the French Impressionists," he writes. "I developed my color theory in order to express a mood by using a complex series of colors to formulate the final hue. I work in a series of glazes — about 15 to build up the layers to create the final color."
Mr. Haas was first invited to show his work internationally in 1998 at the Galerie d'art de L'Echanson in Laon, France. During this and other international trips since, he made a habit of sticking around various European destinations to take a few landscape photos to paint back home. "Those trips were two weeks worth at a time," he says. "After the show, (my wife and I) would take off and explore and take photographs and (I) would work from them."
The recent trip to Italy was a bit different, though. Mr. Haas and his wife, Christine, had been to the country in June 2004, and had passed through Montalcino between Florence and Rome. They had packed a number of destinations into the trip, which left little opportunity to truly absorb the culture of any one region or town.
"We loved (Montalcino) so much that at the end of the trip we swung back through and that's when we got the idea to stay in one place," he says. Mr. and Mrs. Haas left last May, planning for six weeks in Montalcino alone. After such a long time, Mr. Haas says, "It was like moving in."
Perhaps they wouldn't have minded the relocation so much, either. Mr. Haas confesses that the European small town life agreed with both of them. "We've been all through France and Provence and a large chunk of Italy," he says. "For us (Montalcino is) our favorite area, from the people to the food to the landscape to the town, everything. It's a small town with all mom-and-pop shops. The cafés are all very homey."
Mr. Haas was able to identify a favorite among these inviting dining nooks: Café di Montalcino. "The inside is the same as it was in 1888 when it opened," he says. "It's like going back in time." Indeed, on one of the paintings, the structure he identifies as the café bears a sign with "1888" engraved on it.
With five full weeks of painting time, Mr. Haas was able to paint this and all works on site. When it comes to such plein air work, he writes that he uses the same color theories as in the studio, but adds, "I use much larger brushes and layer the paint 'lean to fat' in about seven layers, leading to a freer expression." He remained consistent with this style in the Tuscany paintings, and focused on capturing a variety of landscapes including towns, cafés, vineyards and olive gardens. He says his primary goal was to produce a collective "flavor of the area."
When asked which of the stunning landscapes he found most difficult to capture, Mr. Haas answers almost immediately with "Thursday Market." "Most of the towns have a market day," he says. "Thursday market starts at 9 a.m. and goes to 1 p.m. It was hard because of the way the market was set up in the street. A good vantage point was difficult to find without big umbrellas blocking the view. Plus, the people were all moving about."
Finding a suitable position from which to paint other Tuscan landscapes proved not quite as difficult. For the series of vineyard estate paintings, Mr. Haas had only to walk out the back door of his villa and find a comfortable spot.
As they were driving through the vineyards to the villa on their very first day in Montalcino, he says, he looked out over the landscape that was to become his temporary backyard and said to his wife, "There's my first painting."
He wasn't looking at just any old vineyard either. Unbeknownst to Mr. and Mrs. Haas, they had rented a villa adjacent to Biondi-Santi, the estate responsible for the most famous wine in Italy, the 'Brunello di Montalcino.' Mr. Haas completed five paintings of the estate's 350 acres of rolling green hills, lush vineyards and ginger- colored olive groves.
The Haases were able to do much more than gaze from afar at the famed property, too.
"I'm out painting and this guy walks out of his house and I say 'Buena sera,' which means 'Good afternoon,'" says Mr. Haas. "He says 'Hello' because, of course, he speaks almost perfect English. And it turns out he's the nephew of the owner of the estate. He calls someone who calls someone else and gets us in for a private tour of the cellars and all that. We learned all about the history of the vineyard, and we went out to dinner with them later on."
There were more newfound Tuscan friends to be made. One afternoon, Mr. Haas ran into a friendly waiter who had served them at a restaurant a few days back. Attempting to do as the Romans do (Tuscans in this case), according to the old saying, Mr. Haas asked for advice on nice places to eat. After a second of thought, the waiter invited Mr. and Mrs. Haas to a friend's bar for a pre-picked meal and to watch one of the World Cup soccer games.
As it so happened, Team Italy won that game, and the Americans were instantly declared the good luck charms. They were invited back for another game and then another. "We ended up going to four games," Mr. Haas says with a chuckle. Adventures, conversations and experiences such as this undoubtedly afforded Mr. Haas a deeper understanding of and appreciation for those who populated the town and surrounding lands he painted.
Naturally, Mr. Haas says he'd love to do it all again, and who wouldn't? He already has plans for a trip to the Amalfi Coast and Capri in the works for the spring. "I like to try different types of scenery," he says, naming Greece and Ireland as future possibilities. "I like exploring and finding different types of landscapes." He'll be back with more pretty pictures to show again next fall.