Articles
An American (Artist) in Paris
from Nouveau/September 1998
by Bruce B. Blackburn III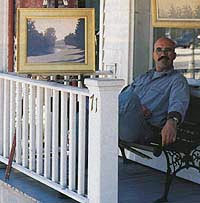 Gordon Haas on the porch of his gallery in Lambertville, New Jersey
Photo by Scott E. Mabry
Little in life has been lost on Gordon Haas. So the dramatic irony of the latest development in his career hasn't escaped him. Ahh, the journey: an American Impressionist in Paris! C'est magnifique.
This summer, like illustrious Delaware Valley painters before him, the 36-year-old Lambertville artist sojourned to France for his art -- but with an important difference. The American artists who traveled to Paris in the early 1900s went there to learn what all the rumpus over something called "Impressionism" was about. They observed, trained, and returned home filled with revolutionary ideas about painting. Gordon, already well-established as a traditional Impressionist, went to give the first international solo exhibition of his career at La galerie d'art de L'Echanson, in Laon.
The experience, arranged through The Leleu Gallery in Doylestown, was so positive that they're talking another trip next year, this time south of Paris to Arles as part of a group exhibition.
But for now, he's back on Bridge Street in Lambertville, where for nearly five years Gordon has hung his shingle featuring an artist's paelette with daubs of color around the edge and the words "Haas Gallery," The building combines his exclusive gallery space and studio. His shaved head, large dark mustache, round metal rimmed glasses and ready smile make him one of Lambertville's most recognizable personalities. His highly impressionistic style is also readily identifiable, in which he expresses a mood by using a complex series of colors to formulate the final hue.
Gordon painted landscapes at the age of 14, "But I was a jock, too," he laughs. "Nobody kidded me about going off to paint." His father was an architect, and a favorite uncle bequeathed him a cache of painting supplies that he put to good use, but his defining influence was the time he spent at the Rhode Island School of Design, where he studied illustration. "It was a great foundation. I wanted a varied background in the fundamentals, and at RISD" -- he pronounces the acronym risdee -- "between '80 and '84, the teaching was based on the Bauhaus school; the main thing they taught you was how to learn. It's a fabulous gift that stays with you forever."
And he learned well. Beginning in 1985, he worked in New York doing editorial illustration, for book jacket covers, children's books and magazines. "I did hundreds. It was a great training ground and an excellent background for painting." The work also taught him something crucial about the business side of art -- the importance of deadlines and PR, self-promotion and the practical sode of making it as an artist. By applying a uniquely analytical approach to his painting, as both an art and a business, he shifted into the next phase of his career.
"My oil painting wasn't ready then," he says, explaining that he was producing mainly watercolors and pastels at the time, while dabbling with a few galleries. "I was still mimicking other people. I had to go through a period of time where I figured out what I was doing. I did it through writing." What started as written notes wound up a working journal, a thick volume of page after page analyzing what he was doing with roughly 75 paintings. "I broke everything down and tore it apart. I looked at every aspect of what I was doing. I asked 'Why am I working on canvas?', and finally decided on panel. I tested everthing out, different sized brushes, varnishes, all my materials. It was a top-to-bottom reevaluation.
"That's when I changed everything -- brushes, glazing, color theories, technique -- and when I stopped using mainly my right hand and became ambidextrous." By 1990, the switch from illustration to fine art was in full swing. Gordon was district sales manager for a newspaper, dealing with key facets of the business: budget, sales promotion, "what makes it work and what doesn't." He began to understand the PR machine like a mechanic knows engines. Today, Gordon is considered one of the area's most commercially savvy artists. In addition to being a founding member of the Artists' Gallery (a cooperative association of 17 artists who take turns hosting the gallery in exchange for guaranteed exhibit space and commission-free sales), his artist-owned gallery is one of the relatively small number of such enterprises across the country that have succeeded. Add the half-dozen museum shows, awards, and numerous solor and small-group juried exhibitions at important galleries throughout New Jersey and Pennsylvania since 1990, and -- from a marketing standpoint -- he appears to have all the bases covered.
Beyond the narrow showroom at the front of his gallery, past the well-lit walls filled with warm landscapes, large oils of people crewing needle-slender craft on the Delaware, and figures, are cabinets of flat files, a stool and an easel. Clipped to the top of the easel is a small color photograph of people relaxing at an outdoor cafe somewhere in France, beneath which, on a blank two-by-three-foot gessoed panel, appear the first outlines of the scene. Actually, Gordon says, it's the "second glazing" of the painting, referring to his distinctive technique of building a final image up from several layers (as many as 15) of paint.
"It's a Dutch technique, but it goes back to Byzantine art and religious paintings. It involves painting a layer and letting it dry so the next layer won't disturb the paint; then applying another layer and so on, layering and drying until you're done." The tall, athletic-looking artist looms large in the narrow studio space. "It's like a chess game," he adds. "You have to plan the final colors, work move by move, and anticipate the end result to get it right. You can get lost if you don't keep track. I keep little crib notes as I go, so I can stay on top of where I am with color as I add to each layer." The technique brings an extraordinary depth, mood and richness to his work.
He's already produced six works and sold three paintings from impressions of his trip to France. With another international exhibition on the near horizon, Gordon ponders the next phase of his creative career. "It's a time of new subject matter, new material, a whole new energy," he reflects, gazing out the gallery's front window at people walking by. For now, the ever-organized Haas tends to business as usual, painting in his studio and en plein air, speedwalking every morning along the canal with his girlfriend Christine, and playing with his 8-year-old son Dillon. The many roads he's traveled have led to different places, but the journey's never been more fun.