Articles
Gordon Haas
from Bucks County Magazine
by Cathie Viksjo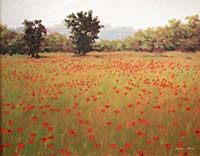 Poppy Fields
by Gordon Haas
There is an old joke in artistic circles. Two men were attending the opening reception of an art exhibit. As they strolled through the gallery, one man said to his friend, "They say this artist is no good. He has money in the bank." The myth of the poor starving artist in not fictional, but has substance in reality. Artists are either wildly successful or undernourished. This notion began in 19th-century France, said art historian Sam Hunter, Professor Emeritus of Art and Archaeology at Princeton University. It began with scenes from the 19th-century novel La Vie Boheme (The Bohemian Life), a Parisian best seller that was turned into an opera. "It was the Romantic period. It was a great fashion to view artists as consumptive beings with hollow cheeks living in a garret. They were seen as spiritual beings," continued the scholar. By the end of the century, the poor starving artist who lived only for his art set a standard of taste. It became a fetish. It was almost a sine qua non, a requirement for any aspiring painter, said the professor.
With that said, Gordon Haas does not want to live in an attic and go hungry. The commercially savvy painter has managed his personal art gallery for 18 years. Located at 71 Bridge Street in Lambertville, he opened the doors in 1992. "I got tired of the other galleries making a fifty percent commission off my work. It's difficult to make a living that way," said Mr. Haas in an earlier 2002 business article. "Any time you make some money in a creative field, everybody thinks you're selling out. It's a self-defeating attitude. I do like being able to eat." Although many galleries have unfortunately fallen by the wayside during the Great Recession, Haas has managed to hold his own. "Business has been pretty good, better than it was a year or so ago. Then it was a tougher sell," said Gordon, 47, who is married and the father of a 20-year-old son.
Noted for his colorful impressionist painting, Mr. Haas attributes his economic survival to his use of giclee prints of his art, as well as the popularity of his bright colorful style in the manner of the French Impressionists. You would never guess that these far-sighted men were in dire financial straits. Their art was essentially happy. They did not portray poverty. Their 19th-century world was cheerful, filled with top hats and tails, fancy bonnets and bustling shiny satin gowns. There were good times to be had. Their subject matter was not depressing. It was just the opposite: Picnics on the grass, ferry trips, mothers and children in poppy fields, sailboats on the Seine, afternoon teas, dancing and gorgeous women bathing were versions of paradise to such greats as Monet and Renoir. "I make prints and giclees of my art, and do my own framing. I've been selling them for years," said Gordon, adding that many artists turn up their noses at giclees with the belief that they would be compromising their art. To the uninitiated, a giclee can almost fool the eye. Exacting and polished, the print has the aura of the real painting, but costs a fraction of the original's price. Gordon's start at $45. Basically, this inkjet spray reproductive technique is an example of technology working as a complementary service to aesthetics, not against it. As the Greek philosopher Plato argued, art should exist for every man, not only the wealthy, as his rival Aristotle maintained. In the case of the giclee (pronounced gee-CLAY), neo-Platonism prevails. Unlike the poster, this inkjet process has an incredible softness. Although nothing really beats the original, those in art circles believe it's the next best thing. Mr. Haas has about 100 paintings in print form. And they sell.
It seems he has taken his father's advice, given to him as a young boy. The progressive guidance of his dad, an architect, has held him in good stead. His parent's philosophy was one of dedication and conviction. "Do what you love to do. Do it and work hard at it. The money will follow later. You automatically get better and better," related Gordon who had wanted to be an artist since the 7th grade. He grew up in Sussex County, and received his first commission when he was a teenager. Enrollment at the Rhode Island School of Design, one of the Ivy Leaguers in art education, cinched the deal. Mr. Haas receive a bachelor's degree in illustration in 1984. He credits RISD with giving him critical thinking skills. "They taught you a learning process and that lasts forever. You really knew how to learn, so it was never stagnant. I carry it with me to this day. If I learned something today, then it was a good day," he said. Fresh out of art school, he had his first commission two weeks later. They kept coming in.
In addition to his education, Mr. Haas has an uncanny knack for self-marketing and promotion, and has used it to his advantage. Beginning in 1985, Gordon worked in New York City doing editorial illustration for book jackets, children's books and magazines, according to the literature. This background taught him the complicated business of art, promotion and public relations.
In 1990, he began his career as a fine artist and moved to Lambertville. He was attracted to the friendly, small town atmosphere, whether in Lambertville or the other side of the Atlantic. "I love little towns," said Gordon, who has conducted plein air workshops in Italy for several years. "I love the people and the towns," he said. He and his wife, Christine, will routinely walk along the canal and pinch themselves. They are doing what makes them happy and they are good at it.
Color is paramount in his landscapes. "I use color theories related to the French Impressionists," he explained earlier to a journalist. "I developed my color theory in order to express a mood by using a complex series of colors to formulate the final hue. I work in a series of glazes, about fifteen to build up the layers to create the final color." In actuality, he is following the parallel color theories developed by Claude Monet, together with his devout homage to the French artist who revolutionized modern art. As the years passed, Monet's palette became even brighter, wrote Hunter in his book on Modern French Painting. His canvases became "vibrating flecks of pure color which were set down in contrasts, for he had discovered that the most intense optical sensations were obtained when the colors were mixed by the eye," wrote Hunter. "A spot of pure red, for example, set next to a spot of yellow not only creates the optical sensation of orange, but does so more vividly than the actual tube pigment of premixed orange."
While Mr. Haas is forced to work indoors during the winter, he awaits the spring with eager anticipation. The first thing he notices are the buds on the trees. That gives him great joy. Like all creative souls who seek solace far from the maddening crowds, Mr. Haas is a congenial man who sits on the porch of his gallery, observing the comings and goings of the small town atmosphere. For the past few years, Gordon and his wife, Christine, have conducted plein air workshops in Positano and Montalcino, Italy--two other small towns across the Atlantic. It all came to pass by way of small talk and the Internet. "The small town of Positano is located in the Italian peninsula near Capri," added Mr. Haas. "That was a shot in the dark." In managing his gallery, and talking with people, Positano kept coming up. I scoped it out on the Web, and came to the conclusion that it was worth the trip. It was fantastic," said Mr. Haas who is ambidextrous. "Lambertville and Positano are the same size. The ambience and lifestyle are very similar. They just happen to be on a difference place on the planet." This fall, they are headed for Montalcino, a small town in Tuscany. The plein air workshop is scheduled for Oct. 2-9. The couple discovered the town in 2000. All pertinent information is available on his web site. "They are all learning the ideals of plein air, and color theory," said Mr. Haas, whose striking landscapes reflect his love of Italy. "They are all learning by example. "It's the ideals. It's the plein air. It's the emotion."
For more information, call 609- 273-5783; Haas Gallery hours: 10 a.m.-5 p.m. Saturday and Sunday; or by appointment. E-mail: info@haasgallery.com or visit his Website: www.gordonhaas.com. Cathie Viksjo is a regional art critic who holds both undergraduate and graduate degrees in art history from Bryn Mawr College.